Semi-trailer – a kind of trailer, which with its front rests on the tractor. It is a vehicle designed to transport a variety of goods on roads of all categories. Therefore, the semi-trailer is an indispensable unit in any agricultural economy.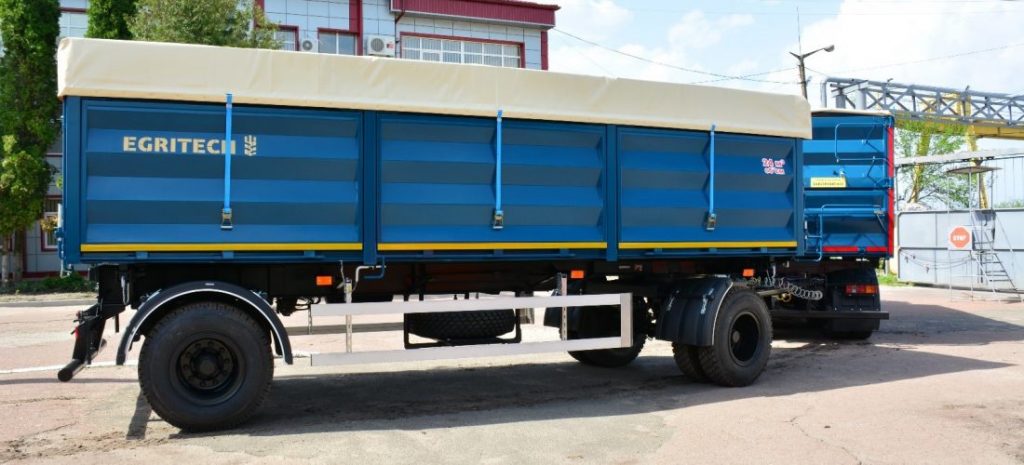 In order to purchase a semi-trailer, it is necessary to qualitatively analyze the technical characteristics that will help you to choose the desired model of the trailer that will fully meet your requirements, in carrying out the work to be performed day in and day out. It is precisely the quality of the semi-trailer that will primarily depend on your profit.
We will try to answer: what are the benefits of buying an Egritech semi-trailer, and what problems can you face
Advantages
The total weight of the Egritech semi-trailer is 31000 kg and the curb weight is 7000 kg, which meets all the established standards.
The total body capacity is 26 meters cubic meters.
For the manufacture of the frame and the supporting elements is used steel grade 09G2S high strength, operating at temperatures from -70 to +425 0C, and for the manufacture of body used steel St3ps.
One of the main advantages is high load capacity – 24000 kg ..
From the front to the back of the body has a more extended shape for better discharge of bulk substances.
For the convenience of using a semi-trailer, the sides can be opened from the left and right sides of the body, as well as from the rear for unloading.
The Egritech tipper trailer on the side faces is equipped with top hangers and shutters. For convenience of loading, unloading and transportation of long and bulk cargoes, the back board can be made of two parts, the lower part – folding with the top hanging, and the upper in connection with the lower – the arable ones.
Thanks to the "beveled" part of the lateral sides when sliding bulk loads avoid sharp corners and do not "remain", which allows to speed up the process considerably.
Disadvantages
On the market of semi-trailers it is possible to find models with full weight up to 43000 kg., And with loaded up to 9000 kg.
Some manufacturers use aluminum material in the manufacture of the body, which significantly reduces the weight of the product and makes it lighter, but significantly increases the cost.
There are models of competitors with a capacity of up to 35,000 kg.
In the onboard semi-trailers, the awning is fixed longer, so it will have to work during loading and unloading operations.
Based on the above data, we can conclude that the choice of agricultural equipment should be analyzed in detail all the pros and cons. Poorly selected machinery can cause a lot of expense due to further breakage or inconvenience. Egritech technology will provide you with reliable and unquestionably quality equipment for a long period of time.